Living Sky Foundation is a contaminant free, non profit organization in support of children and the living arts. It is our intention to raise awareness to the benefits of sustainable, organic agriculture in a constant effort to reduce a toxic inhabitance. Some of our contributions to the community include: Music, art and instructional programs designed and created to serve the planet; as well as fuel families with knowledge and simple tools that assist in efforts to restore balance in nature, conserve natural resources; and to live a healthier, more joyous existence.


We provide fund-raising materials, m
usical equipment, art supplies, farming/gardening tools and books to local schools and youth; maintain community recycling efforts and watershed protection. Volunteer opportunities are always available, assistance is always needed, funding is always desired. We let our circle grow wider, our love grow stronger, and our light grow brighter with each passing moment.

Blessed Bee,
Living Sky

livingsky.org
The Living Sky Foundation shall join in with like minded spirits who dedicate their existence for the good of the planet and the well being of the spirit. Blessed good day to everyone who is just waking up. If we act as one, we will be one. As we unite together, all of us unleashing our own unique and sacred creativity, we will expand our circle and we will shine brighter. As we shine brighter we diminish the darkness and spread a new vibration across the globe; a vibration necessary to create positive change and bring on enlightenment for the new day. Let it be known that not only can we survive in a graceful, harmonious existence, but we will let our voices and our actions be recognized as one human family working together to save our graceful palace floating out in space! We are the peacemakers, delicate human beings who show support for our mother Gaia, who give thanks to our creator and who follow the path of light. We live only to enjoy this lifetime, to follow bliss and to live well. Now let go of all that binds you, simplify your existence, and please don't forget to dance.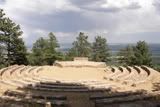 One of our visions is to establish a natural amphitheater and community center for the arts that will be constructed on a plot of land to remain undeveloped and to hold in trust as a land preservation in the lap of the goddess, the beautiful Blue Ridge Mountains of rural, Rappahannock County, Virginia. Our efforts will continue to support music, the arts and drama as well as environmental
programs and astronomy. The Foundation is in need of financial assistance in the way available grants, contributions or donation of the land suitable for it's purpose. Please contact us if you would like to assist in any way or if you would like further information or a business prospect.

Blessings, love and miracles;
living sky &
family bright.

CAUTION INSIDE DWELLS ARTIST